Thanh Am Village in Gia Lam, Hanoi
Thanh Am village, Thuong Thanh commune, Gia Lam district, hanoi vietnam city is an ancient Vietnamese village near Duong river. Formerly, it was called Duong village.
Every year, on spring, villagers hold festival- a traditional cultural activity involving a number of people and it becomes a big demand in people's spiritual life. The festival of Thanh Am village is organized in 3 days from 9th to 10th of March.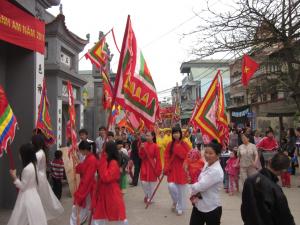 >>> The temple of literature is about 10 minutes away from Hoan Kiem lake.
On 9th of March, the first activity is water procession. villagers come together, wear traditional costumes with serious attitude. Sequentially, the holy flag is carried to lead procession, then a team ""a dứ" follows. This team includes 4 or 8 young men wearing white dress, red belt and taking 5-color flags, goes back and forth, goes around, fly flag from left to right and vice versa, then shout "a dứ". Next, the team of 8 weapons, then team of gong and drum to give way for Saint's palanquin. Following the palanquin is two girls wearing large-sleeved ceremonial robe, yellow turbans, and red belts; they dance gracefully, next are representatives of two villages Le Xa and Cong Thon, and young village men. Participants go in two rows with more than 1km long. The communal house is departure place, go around half of village then go along a dyke and stop a place pitching the holy flag and a wooden boat decorated with red silk.
When  fireworks explode, the boat is sailed to middle of river. A series of sound from small fireworks spreads on river's surface, the smoke blends with waves. Right after ending the sound of firecracker, an elder deliberately scoops water into a jar made of Bat Trang village. When the jar full of water, it is covered with a layer of red cloth.
On 10th of March main festival, the incense smoke is spiraling up all day. Teams of women and men offer incense in order women first, men second. Because here worship two female generals of Hai Ba Trung: Dao Ky and Phuong Dung princess.
On afternoons and evenings, funny games take place.  In the communal house has performance of Chèo (Vietnamese opera) and  Tuồng (Vietnamese classical drama) attracting majority of the elderly but not crowd of youth. So, the village invites groups of  Quan Ho singing from Bac Ninh. The festival of Thanh Am still both maintains ancient traditions and promote new healthy games imbued with national identity.
See more: Top vietnam things to do, plus suggested routes. Travel tips and advice for backpackers and independent travelers.
Share This Post: